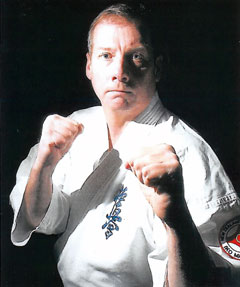 ABOUT SHIHAN
Shihan Peter commenced training in Kyokushin karate on the 1st February 1975. Since that time Shihan has achieved a number of personal milestones. These include being N.Z. lightweight kumite champion, national coach and international referee.
Shihan Peter is currently graded Godan (5th dan) and is a New Zealand Branch Chief of the IKO Matsushima organisation.
He was inducted into the New Zealand Martial Arts Hall of Fame in November 2011, followed by the Australasian Martial Arts Hall of Fame and the World Karate Union Hall of Fame in 2017 for lifetime achievement in Kyokushin karate.
1975
Joined Victoria University Junior Kyokushin Karate Club
1980
Co-Founder - Marist Karate Club, Wellington
1982
National Lightweight Kumite Champion (Kyokushin Nationals, Hamilton)
1983
Graded to Shodan
Assumed role as Chief Instructor, Marist Kyokushin Karate Club
1985
Appointed Liaison Officer for inaugural Trans-Tasman Test Hamilton, NZ
1987
Travelled to Honbu, Tokyo - October/November
1988
Manager/Coach of NZ Team to Commonwealth Championships Sydney, Australia
Graded to Nidan
1989
Qualified as International Tournament Judge
Co-organiser, Trans-Tasman Test, Wellington NZ
Awarded Wellington's Marist Association Sportsman of the Year
1992-1995
Executive Member, NZ Kyokushin Kai kan Incorporated
1993
Assistant Coach of NZ Team to South Pacific Championships – Singapore
Accepted gift from Sosai Masutatsu Oyama (on behalf of NZ Branch Chiefs)
1994
Tournament Director – Quest for the Best national team full-contact kumite tournament, Wellington
1996
Founder, President and Chief Instructor, Defensive Edge Academy (of Martial Arts) Incorporated
1999
Joined IKO - Matsushima Group
Graded to Sandan
2000
Trained under Kancho Matsushima (Hastings, NZ)
Developed and delivered Self Defence in Schools Programme
Opened Marist Junior Kyokushin Karate Club (Johnsonville)
2001
Attended Australian National Camp
2002-2013
Chief Referee, full-contact division of Easter National Tournament, Hastings
2006
Qualified as International Tournament Referee
Graded to Yondan
Coach of NZ Team to World Karate Cup – Sydney
2007
Trained under Kancho Matsushima (Hastings, NZ)
Appointed N.Z. Branch Chief
Director, New Zealand Kyokushin Karate Ltd.
Judge and Referee at Australian National Tournament, Sydney
Opened Marist Kyokushin Karate Club (Tawa)
2008
Judge at World Championships, Japan
Trained under Kancho Matsushima (Isesaki - Japan)
2010
Coordinated 1st IKO Matsushima National Junior Karate Camp
Referee and Judge at World Karate Cup – Estepona, Spain
Attended World Camp in Spain
2011
Trained under Kancho Matsushima (Hastings, NZ)
Graded to Godan/Shihan
Coordinated 2nd IKO Matsushima National Junior Karate Camp
Judge and Referee at Australian National Tournament, Sydney
Inducted into NZ Martial Arts Hall of Fame
2012
Official at World Championships, Japan
Appointed Wellington Regional Director of NZ Martial Art Association
2013
Attended Australian National Camp
2014
Judge and Referee at World Cup tournament – Durban, South Africa
Trained under Kancho Matsushima (Durban, SA)
2015
Referee at Australian National Tournament
2016
Referee at Australian National Tournament
Official at World Championships, Japan
Trained under Kancho Matsushima, Sydney Australia and Maebashi, Japan
2017
Referee at Australian National Tournament
Inducted into Australasian Martial Arts Hall of Fame
Inducted into World Karate Union Hall of Fame
2018
Referee at Australian National Tournament
Judge and Referee at World Tournament, Shanghai, China
2019
Referee at Asian Pacific Tournament, Yangon, Myanmar
Trained under Kancho Matsushima, Yangon, Myanmar